Here are a few of my favorite foods chosen for their flavor, storage potential and nutritional value. I do NOT accept payments, funding or sponsorships from any product manufacturers. These are truly the best products I've found. Read this post to learn how I arrived at these choices.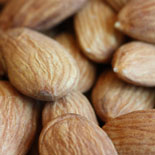 Almonds (Sprouted): Wheatsville Coop
These premium Almonds are great for snacking. Great texture and a clean, bright flavor, (they don't have that signature woody taste that many almonds have). Why sprouted? Raw nuts contain enzymes that keep the nut from sprouting. They also inhibit your ability to digest its full nutrition. The soaking and drying process releases these enzymes and makes them super crunchy and flavorful. Available at Austin's Wheatsville Coop bulk dept. (PLU #212, ~$14.99 / lb.)
Almonds (Raw): Anderson Almonds, Nonpareil or Carmel
These pesticide-free almonds are grown in California by this guy, Glenn Anderson and his wife Leslie. They taste fresh and have a good texture. I prefer the Nonpareil variety only slightly more than the Carmel, but both are very good. Because you buy these directly from the grower, these nuts are unpasteurized (In 2007 the USDA required all US grown nuts be pasteurized or treated with chemicals to kill potential salmonella. Read more here) Call 209-667-7494 to order, the minimum order is 5 lbs, $12/lb., shipping included.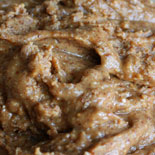 Almond Butter: Whole Foods Market, Grind-it-Yourself 
As you'd expect, this was much fresher-tasting than any of the pre-packaged versions we tried, but also much better than the bulk food versions available at other local stores, much of which was sticky and tasted stale. It's also one of the least expensive brands we tried; Maranatha brand was $24 for a one-pound jar! Although they won't turn deadly sitting in your pantry, storing nut butters in the fridge greatly extends their flavor and nutritional value. Available from your local Whole Foods Market, $7.99/lb.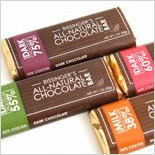 Chocolate (Baking): Bissinger's 75% Dark Chocolate bar
Not just for baking; it's great for snacking, too. Complex and pure tasting, deep and delicious, with no off flavors. Many major chocolate makers Dutch-process, or alkalize, their cocoa, which can destroy as much as 90% of its antioxidants. Bissinger's does not, lending their 75% bars an ORAC value higher than acai berries or blueberries. Available from most Central Markets at $5.99/8 oz., or buy a one-pound box of smaller snack sized bars online here.

Drink Mix: 100% Organic Raw Freeze Dried Navitas Pomegranate Powder
Every generation has its Tang®; lucky Generation Z has freeze dried organic Mediterranean superfruit. Every morning, I mix a tablespoon of this with half a cup of orange juice, ice, and a cup of seltzer water in a tall glass. It's crazy good. If you're storing sweet fruit juices like apple or pineapple, a dash of Navitas Pomegranate Powder makes them, well, tangy. Full of antioxidants, it's also kosher, vegan and gluten-free. Available here.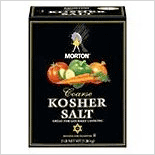 Salt: Morton Course Kosher Salt
Morton's offers the perfect crystal size. Sprinkle it lightly on anything (including chocolate chip cookies before they're baked) and delight your tongue with little bursts of happiness. I've tried many of the pricey fancy salts, including France's Fleur de Sel (almost $18 for 4.5 oz.!), and just can't justify the cost. Available from most grocery stores for around $1.70 for a 3 lb. box.
Although it's always best to buy local, clicking the Amazon links above help me fund this blog. Profit motive doesn't influence my decision on which products I choose, however; if I love something and it's not available on Amazon, I'll tell you where you can find it. Read this post for more information on how these products are chosen.