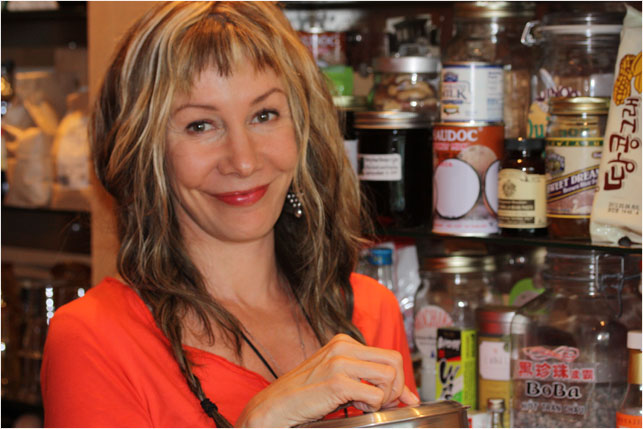 Hi, I'm Sharon Lynn. I started this site to document my obsessive research, probing interviews and mad science experiments in long-term food storage.
Why food storage? The catastrophic events of 2011 got me thinking about disaster scenarios and how well I was prepared for them. I asked myself what I would eat if my family's electricity or gas line was cut off for a week? My pantry, you see, is chocked-full of condiments, baking ingredients and silly liqueurs.
I surmised we'd survive the first week or two by nibbling on preserved lemons, mango chutney and Pacific kombu, but I suspect our lack of "real meals" would probably add to our stress level, not to mention our general health. If the situation lasted even longer, we'd have to resort to more extreme measures, like munching on shrubbery or hurling bricks at squirrels. As I watched post-tsunami video footage of empty store shelves in Japan, I realized I was clueless about the most basic of survival skills, and that made me a little nervous. The few talents I do possess, (the ability to artfully arrange furniture, match my shoes to my hat or seamlessly Photoshop my ex from family photos) have little to do with surviving in the real world, disaster or no disaster.
I decided I needed to ask around and see if anyone else was concerned. I developed the annoying habit of derailing dinner party conversations with queries like "So what are you doing to prepare for the second coming? " or "What wines pair best with freeze-dried squab?". Being stricken from several guest lists actually freed up a significant portion of time to conduct online research. I searched for answers to the following…
What sort of food should a fresh-produce loving foodie stock up on in order to prepare for a "stay put" disaster scenario?   How do I store it, where do I store it and how long will it last? How do I cook it without electricity or gas?   If I can't afford to buy the most tasty foods, what can I do to improve the flavor of what I can afford?   What happens if I never use my stores and I've wasted all that money?
I found quite a few great books and websites that initiated my journey toward sensible food storage. But what I didn't find was enough information on delicious food storage. Merely surviving the next disaster was not all that I had in mind. I wanted to thrive. Ferreting out the tastiest, pantry-friendly foods and experimenting with storing and preparing them became my personal obsession. As did the desire to report on my progress along the way.
So here's what this site is all about: "The Gourmet Survivalist" chronicles my research and testing on the following topics:
Food Storage: How to store foods safely. (So I don't disgust my loved ones, or worse, poison them)
Taste Testing: Which brands of foods are the most delicious ? (Because life is too short to eat bad spaghetti sauce)
Equipment Testing: Which tools and brands work best? (Do I really need a panini press? An induction burner? A raclette maker?)
Health & Nutrition: How to get the most nutrition from every food. (Because certain processing techniques destroy valuable nutrients and there are no doctors in my family)
Pantry Essentials: What foods do I need to keep in my pantry so I have at least a three month supply of meals on hand?
Recipes: How to cook my favorite foods if the electricity or gas line goes out for several days. And also how to cook them on green-light (non-emergency) days in order to rotate through my pantry foods to keep them fresh.
I do hope you'll visit this site often, whether you're preparing for a potential disaster or just curious about how to store the food you're already buying. If you've ever felt overwhelmed by having to choose from 50 brands of olive oil, if you're not sure if you should store opened soy sauce in the fridge or how long your Chicken Fingers will keep in the freezer if the electricity goes out, there's something here for you.